The development of new drugs is nothing but easy. This month the #NEVERMIND newsletter will be centered on CHEMISTRY and its crucial role in the fight against brain disorders! - At UniMI, the laboratory of Prof. Seneci, Partner of the NEVERMIND project, focus their work on synthetic and natural
Read more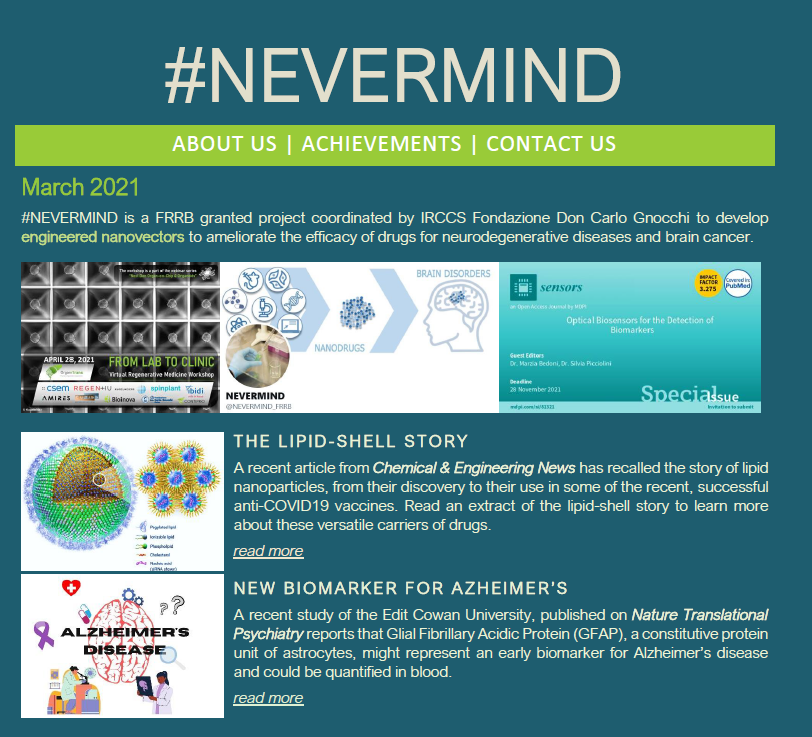 The March release of the #NEVERMIND newsletter wants to share with you two stories from the scientific community:
the lipid shell story to learn when were lipid nanoparticles discovered and how scientists paved the way to the lipid-based COVID-19 vaccines;
new hope for Alzheimer's patients with a Read more
On 9th March 2021, Arianna Iannone has discussed her Master's thesis in Industrial Biotechnology at Università degli Studi di Milano-Bicocca about "BIOCHEMICAL CHARACTERIZATION OF EXTRACELLULAR VESICLES USING SURFACE PLASMON RESONANCE IMAGING: A POTENTIAL TOOL TO DISCOVER PREDICTIVE BIOMARKERS FOR STROKE". With a final mark of 110/110 cum laude, Arianna has presented the main results of her experimental thesis...
Read more
This month the #NEVERMIND newsletter celebrates
the women of the Consortium
, their great effort in research and the passion for their job! Moreover, we are pleased to inform you about the recent excellent results from Fondazione Don Gnocchi and the
new biophotonic tool to diagnose COVID-19
.
Read more
Today, 11th February, Labion celebrates the
International Day for women and girls in Science
! This event was established on 22nd December 2015 and it is intended to "
promote full and equal access to and participation in science for women and girls.
"
The International Day of Women and Girls in Science is implemented by UNESCO and 
Read more