Alzheimer's disease (AD) is a neurodegenerative and progressive brain disorder that slowly destroys memory, thinking skills and in some cases the ability to carry out the simplest tasks.
AD is the most common cause of dementia among older adults and the sixth leading cause of death in US with evidence of an increased mortality also in Europe and in female population.
Scientists continue to unravel the complex brain changes involved in the onset and progression of AD, but no drug or other intervention can successfully treat this disease.
Nowadays the current approaches address symptoms relieve, helping people to manage behavioral symptoms and slow down memory loss. Indeed, the approved medications to maintain mental function, like donepezil, rivastigmine and galantamine, or to manage behavior, can regulate neurotransmitters reducing symptoms. However, these drugs do not change the underlying disease process and may help only for a limited time.
In June 2021, the Food and Drug Administration (FDA) approved the first new drug for Alzheimer's disease.
Its name is

Aducanumab

and is developed by Biogen in Cambridge, Massachusetts (USA). The novelty lies on the mechanism of action of this drug that removes clumps of amyloid-β plaques in the brain, delaying decline in people living with AD.
This is an historic approval that underscores the importance of early detection and diagnosis to guarantee that patients could receive the most benefit as soon as possible.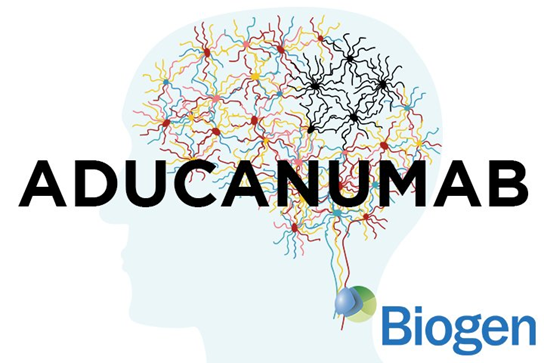 Aducanumab was approved using the accelerated approval pathway, which can be used for a serious or life-threatening illness that provides a meaningful therapeutic advantage over existing treatments.
Researchers evaluated Aducanumab's efficacy in three studies, including 3482 patients, that consisted of double-blind, randomized, placebo-controlled dose-ranging studies. It was demonstrated that patients receiving the treatment had significant dose-and time-dependent reduction of amyloid beta plaque, while placebo-patients had no reduction of amyloid beta plaque. These results supported the accelerated approval of Aducanumab.
Although the approval decision has sparked controversy among scientists, it is now considered a milestone in the treatment of AD and we expect this will be the first of a number of treatments to come which can help to fight AD.
For further information see the following references:
- FDA news release, "FDA Grants Accelerated Approval for Alzheimer's Drug", June 07, 2021
- "Daily briefing: Alzheimer's drug controversially approved by FDA". Nature, 2021 Jun 8. doi: 10.1038/d41586-021-01553-3.
Image source: https://nursetimes.org/fda-approva-aducanumab-il-primo-farmaco-efficace-per-la-cura-del-morbo-di-alzheimer/122477