From Nanotechnologies to Neurosciences, the LABION team has travelled all over Italy to meet with Italian and international experts in the field of nanomedicine, nanotechnologies and neurosciences.
Of course, #NEVERMIND was there!
In Rome, at
Nanoinnovation 2022
The main purpose of NanoInnovation 2022 is to present to a wide and broad audience, state-of-the-art research, recent achievements and global trends in nanoscience and nanotechnology, as well as promoting cross-disciplinary interactions highlighting developments in this field of research. The conference aims to bring together leading academics, scientists, researchers and any professional operating in the field of nanotechnology in order to exchange and share ideas, know-how and information.
Fondazione Don Gnocchi has organized a One-Day session "INNOVATIVE APPROACHES IN UNMET CLINICAL NEEDS  FOR MAXIMUM HEALTH CARE IMPACT" with Univeristà of Modena and Reggio Emilia and Università Magna Grecia.
Members of the European Technology Platform in Nanomedicine (ETPN) as well as experts for AI, microfluidics and innovative diagnostics have presented their work. Dr. Bedoni (LABION, FGD) and Prof. Tosi (UNIMORE) moderated the session.
A comprehensive overview of the recent and established innovation in health technologies will be highlighted with a special focus on several aspects strongly impacting on the success of innovation approaches and its application into clinical setting and shown by different sides of view, from design, to materials, characterization, production and scale up, ending to successful stories of yet approved and on market technologies.
Dr. Silvia Picciolini, together with Labion researchers and Partners from Università degli Studi di Milano and Università degli Studi di Milano Bicocca, presented a Poster with the main achievements obtained in the last year at LABION.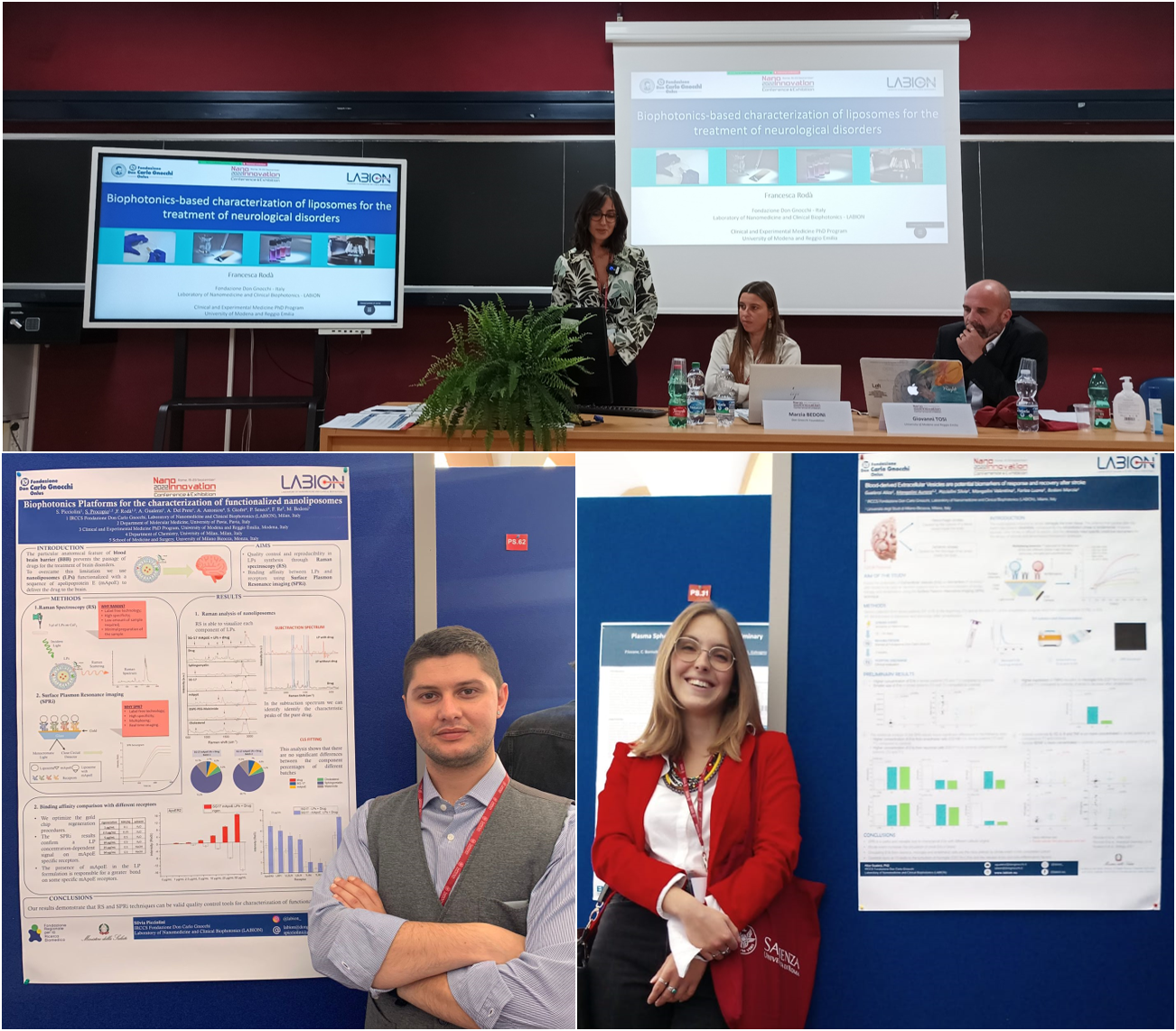 Top:
Dr. Francesca Rodà
, presenting LABION's main results of nanovector characterization by Raman spectroscopy and Surface Plasmon Resonance imaging techniques. Bottom left:
Simone Procopio
, undergraduate student at LABION, presenting the preliminary data of his thesis in Biotechnologies within the Nevermind project. Bottom right:
Aurora Mangolini
, undergraduate student at LABION, presenting the preliminary data of her thesis in Biotechnologies about extracellular vesicles in stroke.
In Rome, at
Brayn Conference
Dr. Mangolini and Dr. Forleo presented the NEVERMIND project and LABION results on Parkinson's disease diagnostics.
BraYn stands for "Brainstorming Research Assembly for Young Neuroscientists", and is an initiative which aims to create a congress specifically intended for young researchers under the age of 40 working in the field of Neuroscience. The main goal of the BraYn initiative is to organize a scientific conference attracting different laboratories across Italy and Europe where young researchers, especially PhD students and junior postdocs, can share their knowledge, skills and ideas to establish new collaborations between different research groups.
Left: Dr. Valentina Mangolini, presenting the lastest data of the Nevermind project. Right: Dr. Luana Forleopresenting LABION data on Raman analysis of liquid biopsies from people with Parkinson's disease.
In Turin, at the second
EVIta Workshop
The workshop organized by the Italian Society for Extracellular Vesicles was an opportunity to meet, talk and exchange thoughts with all EVIta member to foster collaborations and build new solid networks.
Dr. Alice Gualerzi presented LABION data on the use of SPRi biosensor for stroke patients' profiling in the framework of the rehabilomic effort to find new biomarkers for rehabilitation recovery prediction and optimization.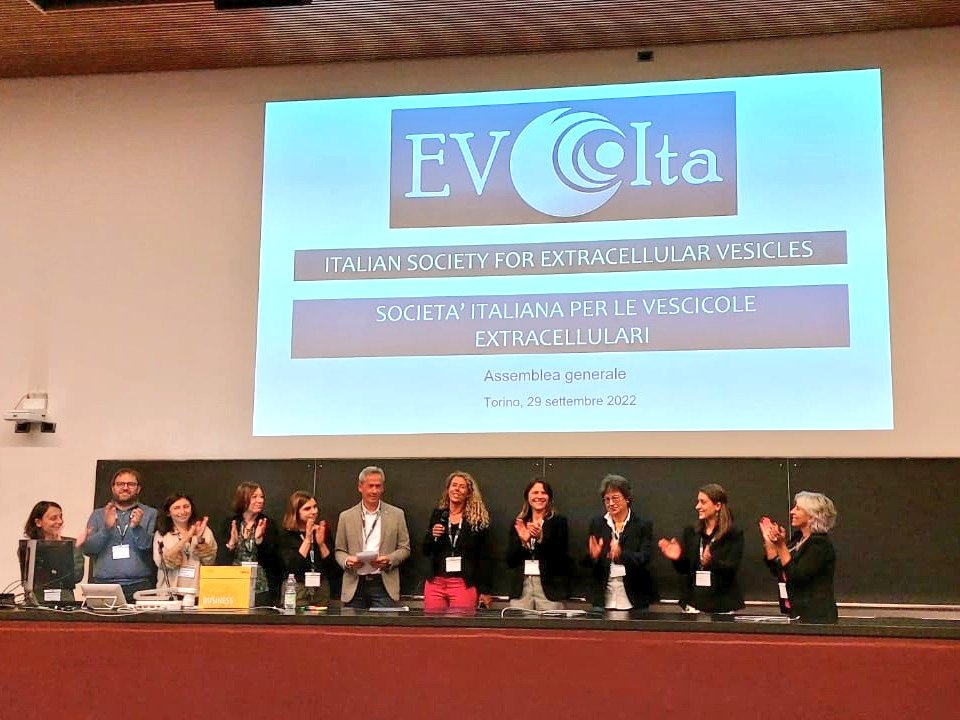 During the EVIta workshop, the General Assembly of EVIta Members voted the new board. Alice Gualerzi (second from the right) is among the 11 members being elected as board members of EVIta society from 2022 to 2025.